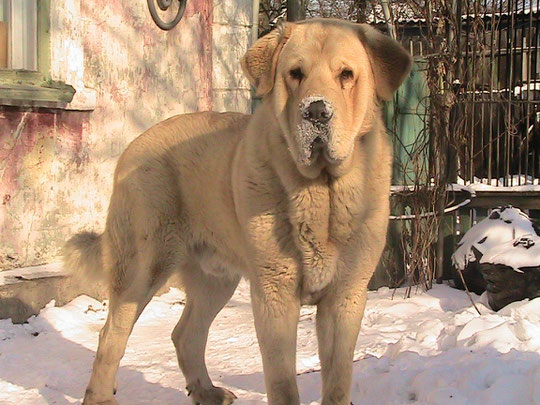 ____________________Spanish Mastiff______________________
Description:
Spanish Mastiff - it is heavy and a huge dog that Spanish shepherds used as a guard and shepherd. For several centuries, the breed of the dog protected and accompanied huge herds . Currently, this dog can often be found at trade shows, Spanish mastiff contain as a guard dog or companion dog .
Spanish Mastiff - quiet and discreet companion , he will never be aggressive without cause, worthy of full trust and 100% predictable . It is a noble and gentle dog , invincible and strong. Spanish mastiff need gentle and attentive upbringing, he's smart and extremely receptive to the words hozyaina.Sobakam this breed requires early socialization and obedience training .
Spanish Mastiff should not be too aggressive or too timid contrary , cowardly . These dogs can not be bred , they were immediately culled . Mastiff can live all year round in the street - thanks to its warm coat , it easily tolerates frost .
Breed Standard FCI № 91 :
General view . Spanish Mastiff - a very powerful and very large , hard working dog Molosser type , proportional and medium length hair .
Proportions.
The body length is longer than the height at the withers.
Length of muzzle / length of skull - 4/6.
Chest circumference / height at withers - 9/ 6.
Skull width greater than the length of the skull or equal to .
Temperament . Spanish Mastiff - balanced and reliable guardian, free from any nervousness , aggressive towards strangers and predators. He has a strong , loud and deep voice .
Head . A large, square cranial part , the length is not less than the width , the occipital protuberance marked. The forehead is flat , the transition is smoothed . The muzzle is deep, long and well filled throughout . Nose black, with wide nostrils . Lips moist, black inside. Eyes small , triangular, slightly slanting , hazel or brown, thick eyelids , black , slightly saggy . Look confident and calm. Ears are small , planted at the upper edge of the eye , thick , triangular , hanging , raised at the base, uncropped . Teeth large , white , scissor bite . The incisors are relatively small compared to the large canines and premolars , a full set of teeth.
Neck . Relatively short , well muscled , nicely arched , set high . The skin is thick , moist , elastic and forms a plume .
Body. Before very muscular and wide, but no signs of congestion . Breast developed , convex , deep chest circumference greater than the height at the withers . Withers well developed, strong top , straight, hard , and when the dog is standing when moving. The loin is short and muscular. Belly moderately tucked up. Croup slightly sloping .
Forelimbs . Angles are sufficient to provide the Spanish mastiff free and elegant movements . Sloping shoulders . Forearms are straight , very thick , rich and heavy boned muscular , short, strong, straight pasterns . The ratio of length to the length of the forearm pastern 3:1. Paw -knit . Dark nails short.
Hind limbs . Average angles . Powerful muscles . Relatively low-lying strong hocks . Characterized dewclaws . Supplied middle.
Tail. Thick at the base , with the suspension reaches the hock. In action it rises and is bent in the form of a sickle , but not twisted and thrown back.
Coat and color . Wool rough, medium-length , thick undercoat . Longer hair on the shoulders and chest , and tail. Fawn, red, wolf , white, gray, black or chestnut , brindle .
Movement. Free , elegant , with an expression of strength. Ambling unacceptable.
Growth. The growth of a dog - at least 77 cm, females - from 72 cm Weight . Male - 60 kg, females - 50 kg. Important overall proportionality dog. Preferred height for males - 80 cm, females - 75 cm
Disadvantages. Narrow , light muzzle , no premolar , weak bones , cowardice . Serious shortcomings . Lack of canine or several premolars , Roach or botched spin connivent hocks , pacing , too long or curly coat , cropped ears and (or) tail inversion or eversion of the century , loose , too raw addition , curly tail . Disqualifications : Split nose , mucous membranes depigmented , bright eyes , and monorchism cryptorchidism .